Facebook Live – Ask Jay
During this unique time Waterous has not been able to have visitors, conduct in-person classes, or have face-to-face meetings. We have been able to use video conferencing to meet with our clients but we had to think of new ways to reach our large audience and still educate the masses about our product.
On April 9th we held our very first Facebook Live event called, "Ask Jay Live." Jay Rought, Senior Technical Service Specialist at Waterous, spoke and took questions about our CMU pump. In just under an hour we had over 2,000 views and 100 comments from people watching in real time and those numbers are still growing. We also gained over 120 new followers to our Facebook page.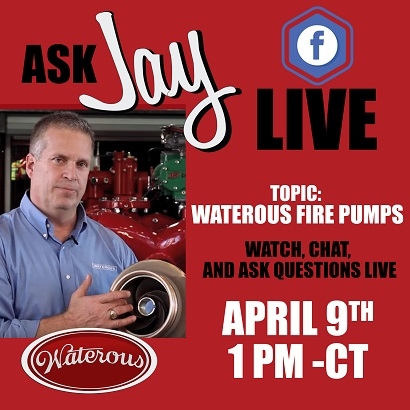 With our first Facebook Live being a big success we are excited to continue this new way of educating our viewers. In the near future we will be creating new topics led by our sales and customer service departments in hopes to reach and educate more people about Waterous. With these changing times, we are confident we will continue to offer new and engaging materials for all of our clients and followers.