AQUIS ULTRAFLOW
Extended throw range with high flow rates is increasingly important to industrial firefighters to maintain a critical application rate of the new aqueous film-forming foams, AFFF. AFFF works by quickly by spreading out over the surface of the fuel, depriving the fire of oxygen, quickly extinguishing petrochemical fires. The new non-fluorinated AFFF firefighting concentrates require much higher application rates than the older fluorinated concentrates that are now being restricted by the EPA due to environment and health concerns. With the AQUIS™ ULTRAFLOW Industrial Foam System Waterous is on the cutting edge with the best industrial fire suppression technology available to quickly extinguish even the largest fires.
Waterous AQUIS™ ULTRAFLOW Industrial Foam System consists of a Waterous CRUQC-2 pump with 10" suction intakes, flowing over 4000 GPM (15000 l/min) from draft and over 6000 GPM (22,700 l/min) with a pressurized intake, all while simultaneously injecting up to 300 GPM (1135 l/min) of foam concentrate in any of up to 16 discharges under direct operator control via the Waterous AQUIS™ ULTRAFLOW Tellurus touchscreen panel. With a one-hundred foot ladder fully extended, an aerial can throw concentrate/water solution over 400 feet (122 meters) from the apparatus.
Aerial Flowing Foam Solution Using AQUIS™ ULTRAFLOW
With a 100' (30 meter) ladder fully extended, concentrate/water solution can be thrown over 400 feet (122 meters).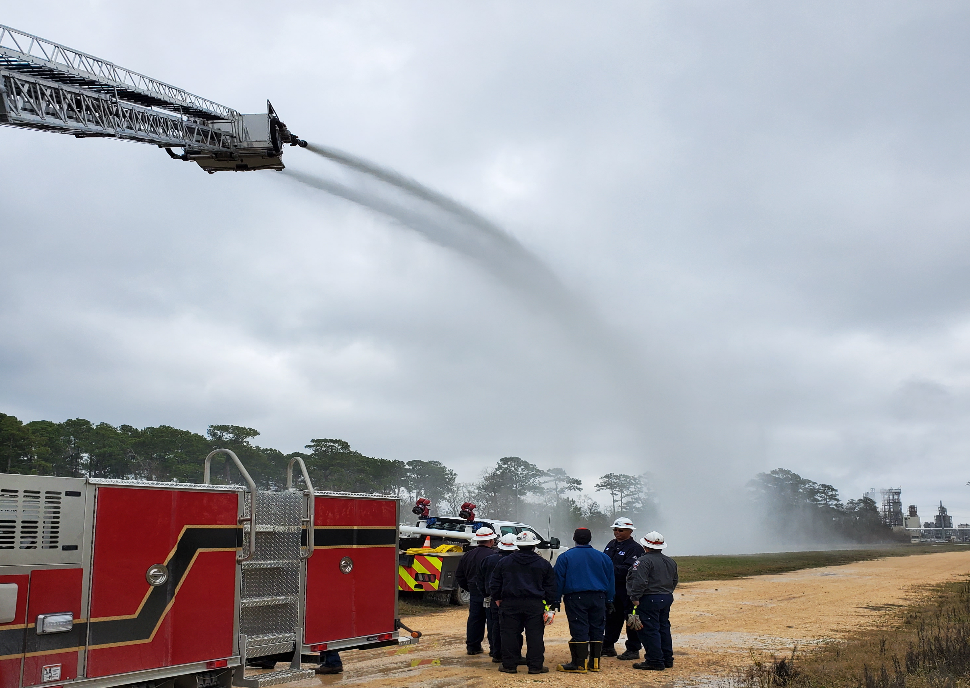 Waterous AQUIS™ ULTRAFLOW Tellurus Touchscreen Panel Shown on Aerial Apparatus. Controls all foam discharges from single device.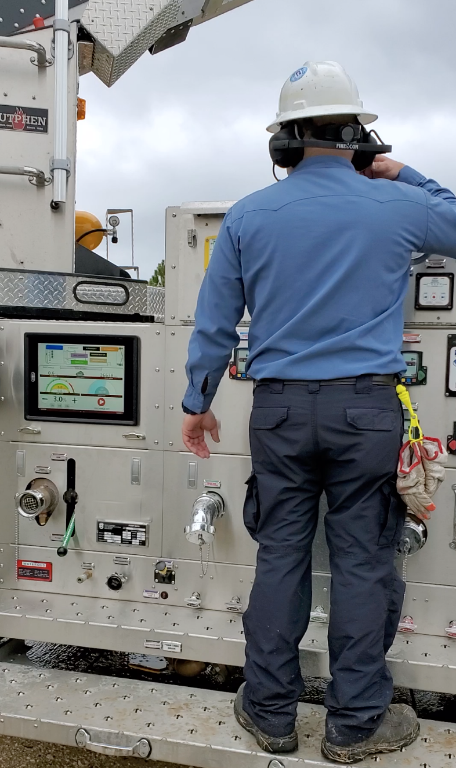 15" Tellurus Specifications
Highly readable display under all lighting
Rugged iPad-like touchscreen
Gloved operation in water spray environment
High resolution, full-color graphics
Dynamic user interface capability
Large storage capacity for applications and data
High reliability military-grade operating system with integrated state-of-the-art security.
Sealed ruggedized design for operation in fire service.
Tested to military and European standards
Flexible vehicle connectivity options
Secure wireless connectivity
Supports multiple wireless data connection points
Wide range robust power supply designed for in-vehicle applications.